WDG 1200 & 1210 - Oxygen analyzer Systems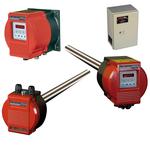 WDG 1200 & 1210 - Oxygen analyzer Systems
The Genesis WDG Series from Land were the world's first fullyintegrated stand-alone, flue gas oxygen analyzers. The Genesis 1200 WDG and the Genesis 1210 WDG are rugged and reliable for net oxygen, and use industry-proven zirconium oxide sensor technology.
The outer probe tube is 310 stainless steel so no abrasion shield is needed for most applications.
The integrated/remote controller features precision temperature control for optimum stability, built-in diagnostics, and overtemperature protection. Modbus and 4-20 mA outputs are standard; automatic calibration is available.
The unique sensor design allows the entire sensor assembly, including the heater, to be removed without disturbing the outer protection tube which remains in the process; this makes field service fast and easy, and because there is no need to return the probe to the factory for repair, there's no expensive downtime.
Key Features:
Simple Installation and Operation
4-key user interface controls all functions
Service and maintenance carried out on site
All parts are field replaceable
Straightforward integration in plant control system
Measurement systems for most applications
Wide range of options available
Outstanding sensor reliability - 2 year warranty
Robust design with large surface area and rigid bonding